Bonjour,
Afin de répondre à une question sur le groupe Linkedin, voici une petite introduction aux solutions de backup d'infrastructures virtuelles.
Dans le cadre des backups d'infrastructures virtuelles, il existe plusieurs possibilités qui vont dépendre de votre architecture informatique et des contraintes légales.
Traditionnellement, l'agent du logiciel de backup, installé dans la VM, a toujours bien fait son travail, mais il est vrai que cette solution a tendance à exploser les fenêtres de backup, donc rapidement, il sera difficile de respecter les SLA et cela impactera la production.
La virtualisation crée des disques virtuels et potentiellement, si l'on copie les VMDK ou les VHD, notre VM est sauvegardée. Le problème est que le fichier est locké par l'hyperviseur et donc difficilement traitable, de plus, les logiciels de backup ne sont généralement pas capables de lire du VMFS (système de fichiers de VMware).
VMware a offert, dès la version 3, le VCB (VMware Consolided Backup) permettant, à travers un Proxy Backup, de copier les VMDK. Solution fastidieuse que peu de monde a mis en place.
Avec l'arrivée de vSphere 4 et la politique des vAPI, ils ont proposé les vAPI Storage, avec notamment le VAAI et la Dataprotection. De cette manière, VMware a laissé les éditeurs de backup intégrer son vAPI.
L'avantage de cette technologie, est qu'un snapshot est créé, sur la VM à backuper et l'agent VSS de Microsoft, intégré dans les VMware Tools, permet de garantir la consistance des données, lors de la sauvegarde du VMDK. Le snapshot étant supprimé à la fin du backup.
En plus, la technologie de CBT (Change Block Tracking) permet d'optimiser les backups et donc de copier seulement les blocks nouveaux.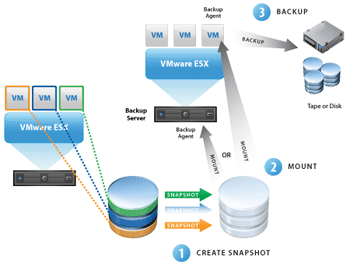 Pour les petites entreprises (moins de 100 VMs), la solution de VMware Data Recovery (ou VDP VMware Data Protection dès vSphere 5.1) permet, à moindre coûts, d'utiliser cette technologie.
Sinon les éditeurs tel que Symantec avec BackupExec et NetBackup, Tina d'Atempo, EMC NetWorker sont capables d'offrir cette technologie et de simplifier vos backups.
Il y a surtout VEEAM, leader dans ce créneau, permettant de gérer, d'une manière simple, les backups avec la possibilité d'avoir plusieurs Proxy Backup, tester les restaurations de VM et répliquer les données sur un autre site, pour du DRP. C'est également un des seuls permettant de backuper une infrastructure Hyper-V. Seul défaut, il n'est pas capable de gérer du B2T (Backup to Tape).
Une autre possibilité, est l'utilisation des technologies de snapshot, au niveau de la baie de stockage, mais pour cela, il faut un outil communicant avec le vCenter, la VM et la baie de stockage, afin de coordonner les snapshot consistant. Je pense à Snapvault, Snapdrive et SMVI de NetApp.
La réplication synchrone, de baie à baie, a aussi ses solutions comme le CDP (Continuous Data Protection) offrant du BRP et DRP, en même temps. Je pense a FalconStor et EMC avec RecoverPoint.
Dans ce cas-là, il faut gérer les points de consistance des applications, afin de permettre une reprise de production rapide sans données corrompues.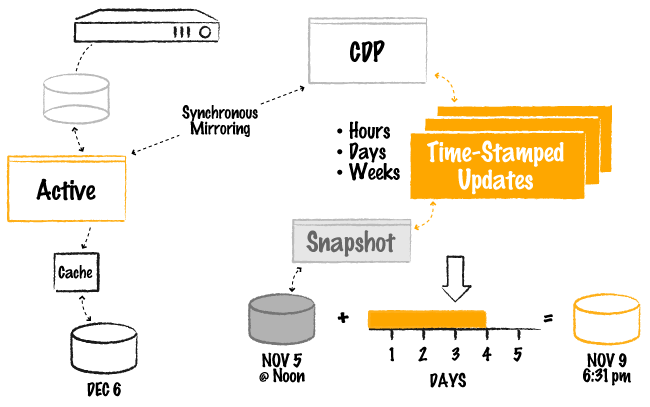 Dernière technologie, permettant d'améliorer les fenêtres de backup, est la déduplication à la source. C'est l'agent dans la VM ou dans l'infrastructure, qui va analyser les données à backuper et n'envoyer que ce qui est nouveau, au média serveur. Dans cette gamme de produit, Avamar d'EMC a donné de très bons résultats.
Plus généralement, l'utilisation de B2D (Backup to Disk) et de B2D2T (Backup to Disk to Tape) permet également d'améliorer les fenêtres de backup, les solutions de baies dédiées aux backups comme DataDomain sont optimisées et offre de la déduplifiaction des données sauvegardées, sur la cible.

Cet article n'est évidemment pas exhaustif mais offre un état des lieux concernant cette problématique.
Si vous avez des remarques et retours d'expériences, n'hésitez pas à les partager avec nous.
Bon backup.